Campaign

[JAPAN] "Dream Together with Fans!!" Present Campaign
2023-06-08 09:30 update
祝!『日本おもちゃ大賞2023』ハイターゲット・トイ部門<大賞>受賞!
超合金 RZ-041 ライガーゼロ」の発売を記念して、「Dream Together with Fans!!」プレゼントキャンペーン開催!
Dream をともに創ろう!コラボプロジェクトに期待することをハッシュタグ「#DreamTogetherCP」をつけて、ツイートしよう!!
抽選で50名様に豪華コラボプロジェクト商品をプレゼント!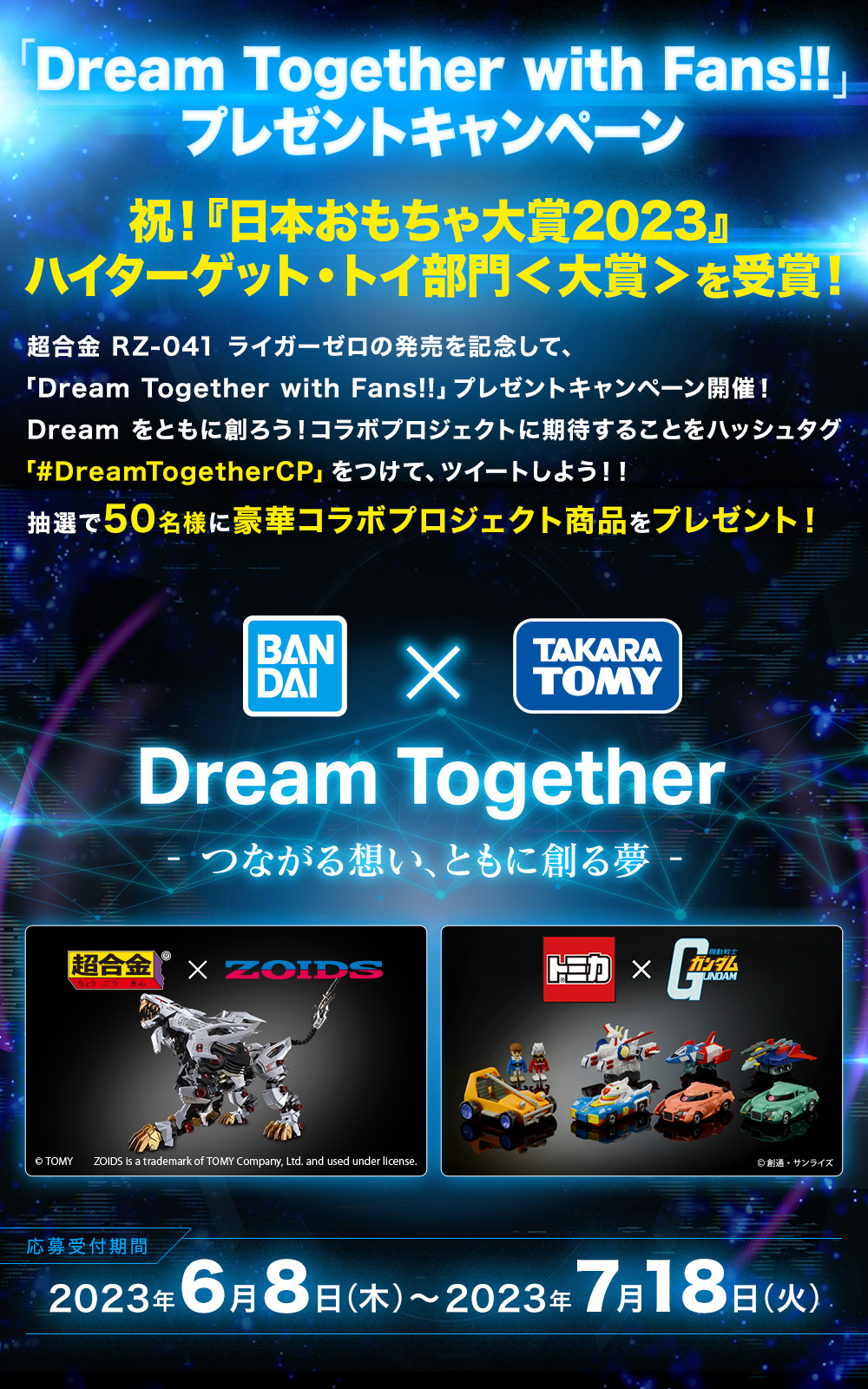 ■ Application acceptance period
2023年6月8日(木)~2023年7月18日(火)
■ご応募の流れ
①Twitterアカウント「@t_features」をフォローする。
②コラボプロジェクトに期待することをハッシュタグ「#DreamTogetherCP」をつけてTwitter投稿する。
③ご応募いただいた方から抽選で50名様に豪華コラボプロジェクト商品をプレゼント!(後日発送)
■ Winning prize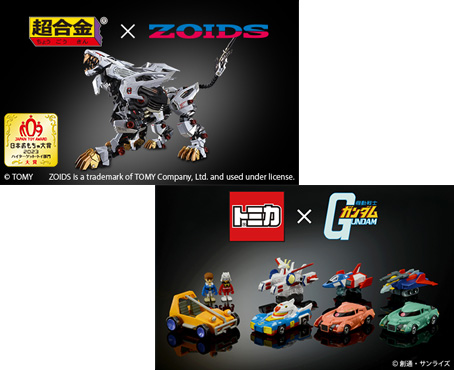 <BANDAI SPIRITS×TAKARATOMY 賞>

・超合金 RZ-041 ライガーゼロ
・トミカ×機動戦士ガンダム 7種セット
セットでお届け

10名様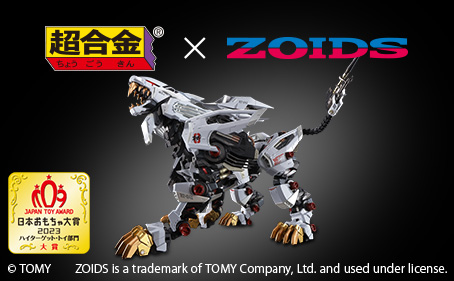 <超合金×ZOIDS 賞>

・超合金 RZ-041 ライガーゼロ

5名様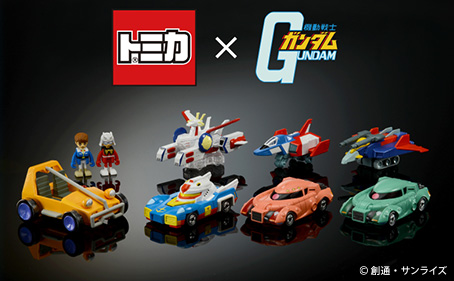 <トミカ×機動戦士ガンダム 賞>

・トミカ×機動戦士ガンダム 7種セット

35名様
■ご応募に当たっての注意事項
※応募期間締切後の抽選実施時に、指定の公式Twitter(@t_features)をフォローしていない場合は応募対象外となります。
*Tweets that do not have a campaign hashtag or have a content that differs from the specified content will not be eligible for application.
※ご当選者様には、TwitterのDMでご連絡の上、指定の個人情報入力フォームに景品の発送先情報をご入力いだきます。
*If shipping information is not provided via DM by the designated date, or you cannot be contacted for shipping, the selection may be invalidated.
*The personal information of the winners acquired by BANDAI SPRITS Co., Ltd. (hereinafter referred to as our company) will be used for the purpose of sending prizes and inquiring about the winners.
※弊社は、本キャンペーンにて取得したお客様の個人情報を、当社が別途定める「個人情報及び特定個人情報等の取扱いに関する方針」に基づき管理します。
*Prizes can only be shipped within Japan.
* The target age of the prize products is ages 15 and up and over.
【ツイート投稿によるご応募にあたっての注意事項 】
*Our company does not accept ideas (plans/suggestions) from customers. Also, please note that the content you submit will belong to us.
* Requests for commercialization in applying for this campaign will be used as a reference for future product development, but we do not promise commercialization.
* For product inquiries, please contact the BANDAI SPIRITS Customer Service Center.
*If we judge that the posted content corresponds to any of the following items, we will not be selected.
・In cases where the content includes or may infringe copyrights, trademarks, privacy rights, portrait rights, honors, etc. of third party rights.
・When it contains false content that is contrary to the facts.
-In cases where it contains information relating to the privacy of others and information that can identify an individual such as the name, email address, address, or telephone number of another person.
・Including advertisement/promotion, sales activities, public office campaigns, specific ideas, solicitation to religion, or similar contents.
・When including pornographic novels/photos, solicitation for sexual relations, and other obscene content.
-Including cases that significantly promote violence, cruelty, or crime in children and adolescents and impede their sound development.
・When inappropriate expressions such as slander, complaints, discrimination, or aversion to a specific corporation/organization, region, or individual are included.
-When it contains grotesque content.
・Including cases where there is a content that is or may be against laws and public order and morals.
・In addition, we have determined that the content and expressions are inappropriate when operating this campaign.
販売店様にてタッチ&トライイベントも開催!
「超合金RZ-041 ライガーゼロ」の発売を記念して、2023年6月17日(土)・6月18日(日)の2日間、下記、販売店様にて商品体験会を開催します!

超合金の歴史と技術を結集して設計された「超合金 RZ-041 ライガーゼロ」。是非お手に取ってその仕様をご体験ください!
■実施店舗
[関東]
| 店舗名 | Street address |
| --- | --- |
| ヨドバシカメラ マルチメディアAkiba | 〒101-0028 東京都千代田区神田花岡町1−1 6F |
| ヤマダデンキ LABI1 LIFE SELECT 池袋 | 〒170-0013 東京都豊島区東池袋1-5-7 6F |
| イエローサブマリン 秋葉原本店★ミント | 〒101-0021東京都千代田区外神田1-15-16  ラジオ会館6F |
| ビックカメラ 千葉駅前店 | 〒260-0015 千葉県千葉市中央区富士見2丁目1−1 マインズ千葉 A館 6F |
| イエローサブマリン 宇都宮店 | 〒320-0803 栃木県宇都宮市曲師町2−5 宇都宮Festa 2F |
| TAMASHII NATIONS STORE TOKYO | 〒101-0028 東京都千代田区神田花岡町1-1 |
[関西]
| 店舗名 | Street address |
| --- | --- |
| Yodobashi Camera Multimedia Umeda | 〒530-0011 大阪府大阪市北区大深町1-1 5F |
| EDION京都四条河原町 | 〒600-8001 京都府京都市下京区真町68 番地 B1F |
| EDIONなんば本店 | 〒542-0076 大阪府大阪市中央区難波3丁目2−18 7F |
| EDION広島本店 | 〒730-0031 広島県広島市中区紙屋町2丁目1−18 7F |
| イエローサブマリン 宇都宮店 | 〒320-0803 栃木県宇都宮市曲師町2−5 宇都宮Festa 2F |
| ジョーシン郡山店  | 〒639-1115 奈良県大和郡山市横田町693−1 |
* Please check the implementation status at each store.
* Stores and contents are subject to change without notice.
※イベント実施中は、スタッフの案内に従ってご参加ください。
※ When congestion has a case where I am allowed to provide a time limit. Please join if there squirrel.
*The target age of the product is 15 years or older.
Participating novelty: "CHOGOKIN RZ-041 Liger Zero" package art card (2 types in total)
We plan to distribute a limited number of novelties to those who participate in the event.
It will be distributed only at the store where this event is held, so don't miss it!

[Distribution conditions]
Design 1: A gift for those who participated in the trial session.
Design 2: After participating in the experience event, tweet your impressions of the event with "# CHOGOKIN Liger Zero Experience Event",
A present for those who showed the screen to the experience meeting staff.

* It will end as soon as it is lost.
© TOMY ZOIDS is a trademark of TOMY Company, Ltd. and used under license.
Attention
Images are for illustrative purposes only.
Products may differ slightly from the images and illustrations shown.
Please note that products that have been on the market for some time may no longer be produced or sold.
Information on this website, such as product names, release dates, and prices, is subject to change.
Product release dates refer to their original release date in Japan. If you are looking for release dates outside Japan, please check with a store in your region.
If you cannot find information about the status of a product, please inquire with your local retailer.
This website includes Tamashii Web Shop products shipped after July 2012.
Note that some products sold by TAMASHII NATIONS will not be listed on this website.
This site lists previously released products with the new tax rate (10%) that would apply if purchased in stores today.
Please note that the listed price may differ from the initial release price (which applied the previous tax rate).
The price listed reflects the manufacturer's suggested retail price including consumption tax.
The price on Tamashii Web Shop reflects the retail price including consumption tax.
The "Buy Now" button that appears when a Tamashii Web Shop item is available for purchase is a service that allows you to add the desired item directly to the Premium Bandai cart. It may not function due to Premium Bandai maintenance or your device settings.
If Premium Bandai experiences heavy traffic, pages on the website, as well as the "Buy Now" button, may not display properly. If this happens, please try again later.
If you are using an iPhone, the "Buy Now" button may not work for you outside of Japan. Turning off "Prevent tracking beyond this site" in your browser settings may remedy the situation.