Campaign

[TAMASHII NATION 2022] Follow & Hashtag Posting Present Campaign
2022-11-17 10:00 更新
2022年11月18日(金)~20日(日)、3年ぶりのリアル開催となる『TAMASHII NATION 2022』をご来場の皆様と一緒に盛り上げるべく、プレゼントキャンペーンを実施!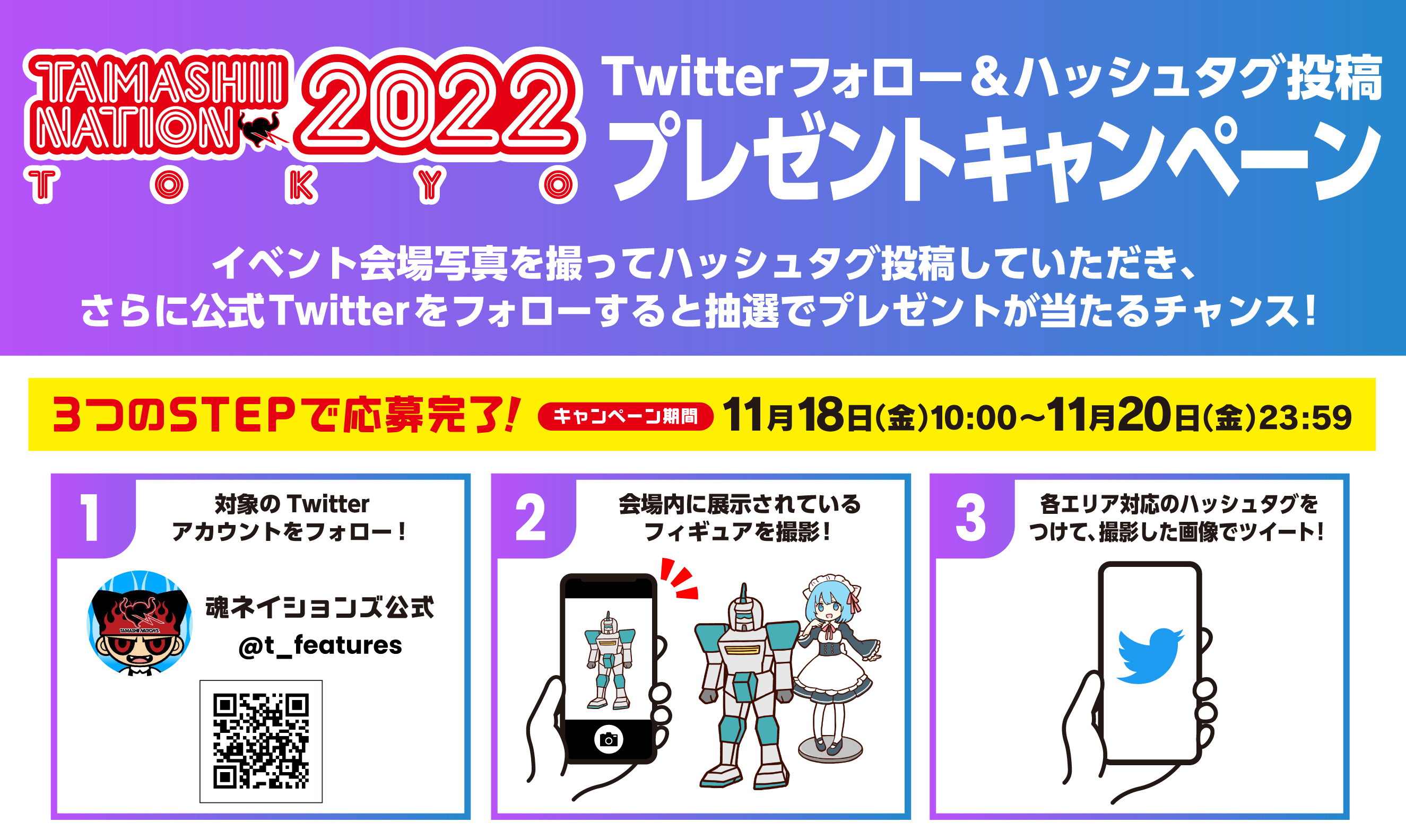 ■ Application acceptance period
2022年11月18日(金)10:00 ~ 11月20日(日)23:59
■ご応募の流れ
【STEP 1】
Twitterで、キャンペーン対象アカウント(@ t_ features) Follow us.
【STEP 2】
ベルサール秋葉原で開催のイベント『TAMASHII NATION 2022』(入場無料)へご来場いただき、展示されているフィギュアを撮影する
【STEP 3】
各コースごとに指定のハッシュタグを記載の上、撮影した画像を添付してツイートする。

条件を満たす形でツイート投稿してくださった方の中から、抽選で計20名様に魂ネイションズのフィギュア商品を後日プレゼント!!
※当選発表は11月末頃にTwitterのDMにて、ご当選者様のみに直接ご連絡いたします。
※景品の発送は12月中旬ごろを予定しております。
■コース
展示カテゴリごとに、プレゼント景品の異なる応募コースをご用意しています!
<ロボットコース>
指定ハッシュタグ:
・B1 マクロス …… #魂ネイション2022_マクロス
・1F ガンダム …… #魂ネイション2022_ガンダム
・2F その他ロボット …… #魂ネイション2022_ロボット
・2F 超合金 …… #魂ネイション2022_超合金

<ヒーローコース>
指定ハッシュタグ:
・1F ウルトラマン …… #魂ネイション2022_ウルトラマン
・1F 仮面ライダー …… #魂ネイション2022_仮面ライダー
・1F スーパー戦隊 …… #魂ネイション2022_スーパー戦隊
・2F モンスター、洋画系 …… #魂ネイション2022_LIVE_ACTION

<キャラクターコース>
指定ハッシュタグ:
・2F ジャンプキャラクター …… #魂ネイション2022_ジャンプキャラクター
・2F その他アニメキャラ …… #魂ネイション2022_アニメキャラ
・2F ゲームキャラクター …… #魂ネイション2022_ゲームキャラ

<魂ネイションズコース>
指定ハッシュタグ:
・1F T.M.Revolution …… #魂ネイション2022_TMR
・1F アイドルマスター …… #魂ネイション2022_アイマス
・2F Digi-Fig …… #魂ネイション2022_digi_fig
・2F その他 …… #魂ネイション2022_other

■ご応募に当たっての注意事項
*At the time of the lottery after the application period deadline, the designated official Twitter (@ t_ featuresIf you do not follow ), you will not be applied.
*Tweets that do not have a campaign hashtag or have a content that differs from the specified content will not be eligible for application.
* Winners will be asked to contact us via Twitter DM and enter the shipping address information of the prize in the designated personal information input Form.
*If you do not enter the shipping information in the DM by the designated date, or if you cannot contact us for shipping, the winning may be invalidated.
*The personal information of the winners acquired by BANDAI SPRITS Co., Ltd. (hereinafter referred to as our company) will be used for the purpose of sending prizes and inquiring about the winners.
※弊社は、本キャンペーンにて取得したお客様の個人情報を、当社が別途定める「個人情報及び特定個人情報等の取扱いに関する保護方針」に基づき管理します。
*Free gifts can only be shipped within Japan.
* The target age of the prize products is ages 15 and up and over.
【ツイート投稿によるご応募にあたっての注意事項
*Our company does not accept ideas (plans/suggestions) from customers. Also, please note that the content you submit will belong to us.
* Requests for commercialization in applying for this campaign will be used as a reference for future product development, but we do not promise commercialization.
※商品に関するお問い合わせは、BANDAI SPIRITSお客様相談センターまでご連絡ください。
*If we judge that the posted content corresponds to any of the following items, we will not be selected.
・In cases where the content includes or may infringe copyrights, trademarks, privacy rights, portrait rights, honors, etc. of third party rights.
・When it contains false content that is contrary to the facts.
-In cases where it contains information relating to the privacy of others and information that can identify an individual such as the name, email address, address, or telephone number of another person.
・Including advertisement/promotion, sales activities, public office campaigns, specific ideas, solicitation to religion, or similar contents.
・When including pornographic novels/photos, solicitation for sexual relations, and other obscene content.
-Including cases that significantly promote violence, cruelty, or crime in children and adolescents and impede their sound development.
・When inappropriate expressions such as slander, complaints, discrimination, or aversion to a specific corporation/organization, region, or individual are included.
-When it contains grotesque content.
・Including cases where there is a content that is or may be against laws and public order and morals.
・In addition, we have determined that the content and expressions are inappropriate when operating this campaign.
©1982 BIGWEST
©創通・サンライズ
©カラー
PAC-MAN ™ & © BANDAI NAMCO Entertainment Inc.
©2020 石森プロ・テレビ朝日・ADK EM・東映
©2021 石森プロ・テレビ朝日・ADK EM・東映
©円谷プロ ©ウルトラマンZ製作委員会・テレビ東京
©円谷プロ ©ウルトラマントリガー製作委員会・テレビ東京
©尾田栄一郎/集英社・フジテレビ・東映アニメーション
© バードスタジオ/集英社・東映アニメーション
©BNP/T&B2 PARTNERS


Attention
Images are for illustrative purposes only.
Products may differ slightly from the images and illustrations shown.
Please note that products that have been on the market for some time may no longer be produced or sold.
Information on this website, such as product names, release dates, and prices, is subject to change.
Product release dates refer to their original release date in Japan. If you are looking for release dates outside Japan, please check with a store in your region.
If you cannot find information about the status of a product, please inquire with your local retailer.
This website includes Tamashii Web Shop products shipped after July 2012.
Note that some products sold by TAMASHII NATIONS will not be listed on this website.
This site lists previously released products with the new tax rate (10%) that would apply if purchased in stores today.
Please note that the listed price may differ from the initial release price (which applied the previous tax rate).
The price listed reflects the manufacturer's suggested retail price including consumption tax.
The price on Tamashii Web Shop reflects the retail price including consumption tax.
The "Buy Now" button that appears when a Tamashii web shop item is available for purchase is a service that allows you to add the desired item directly to the Premium Bandai cart. It may not function due to Premium Bandai maintenance or your device settings.
If Premium Bandai experiences heavy traffic, pages on the website, as well as the "Buy Now" button, may not display properly. If this happens, please try again later.
If you are using an iPhone, the "Buy Now" button outside Japan may not work. It may be improved by turning off "Prevent tracking across sites" in the browser settings.
Rate This Page
Did you find this page useful?